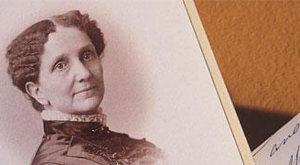 As a child, Mary Baker Eddy (1821-1910) learned to love the Bible as she listened to her father read it to the family each day. On her own she continued reading, learning and discovering the meaning of the words in the Bible. She had a great desire to understand how Jesus and other disciples healed.
As an adult she fell on the ice. Doctors and family feared she would not survive the night. Mrs. Eddy asked for her Bible and through the night studied and prayed. By morning she was completely healed and walked out of the bedroom, to the amazement of those who had gathered.
It was at this point that she began a lifelong quest to understand God and how God works in our daily lives. After many attempts at various health care systems, she began to understand the science behind the healings in the Bible, not only physical healings but healings of supply, protection, and other challenges. Wanting to share this new understanding, she spent three years writing a textbook Science and Health with Key to the Scriptures. This book, along with the Bible, is widely studied daily by people of all faiths around the world. These two books are also the only pastors of the Christian Science church.
In 1995 Eddy was inducted into the US National Women's Hall of Fame because of her "indelible mark on society, religion, and journalism."
In 1992 Science and Health was recognized by the Women's National Book Association in the USA as one of the "75 Books by Women Whose Words Have Changed the World."